INFORMATIONEN ZUR NÄCHSTEN VERANSTALTUNG

Leadership, Education, Personality: An Interdisciplinary Journal


THEMA: LEADERSHIP IN A DIGITAL WORLD
*Die zugehörige Sonderausgabe des Journals "Leadership, Education, Personality: An Interdisciplinary Journal" wird veröffentlicht bei

Persönlichkeiten aus Wissenschaft und Wirtschaft diskutieren

Disruptive Innovationen sind essenziell für die Zukunftsfähigkeit von Unternehmen jeglicher Größe. Inkrementeller Fortschritt liefert zwar einen Nutzen, bereitet Unternehmen jedoch nicht auf die digitale Zukunft vor. Aus diesem Grund nutzte Prof. Dr. Werner G. Faix, Geschäftsführer der School of International Business and Entrepreneurship (SIBE) der Steinbeis-Hochschule und Dekan der Fakultät für Leadership & Management an der Steinbeis-Hochschule, seine Eröffnungsrede im Rahmen des wissenschaftlichen Symposiums "Leadership in a Digital World", um auf eben diese Dringlichkeit zur disruptiven Innovation in Unternehmen hinzuweisen.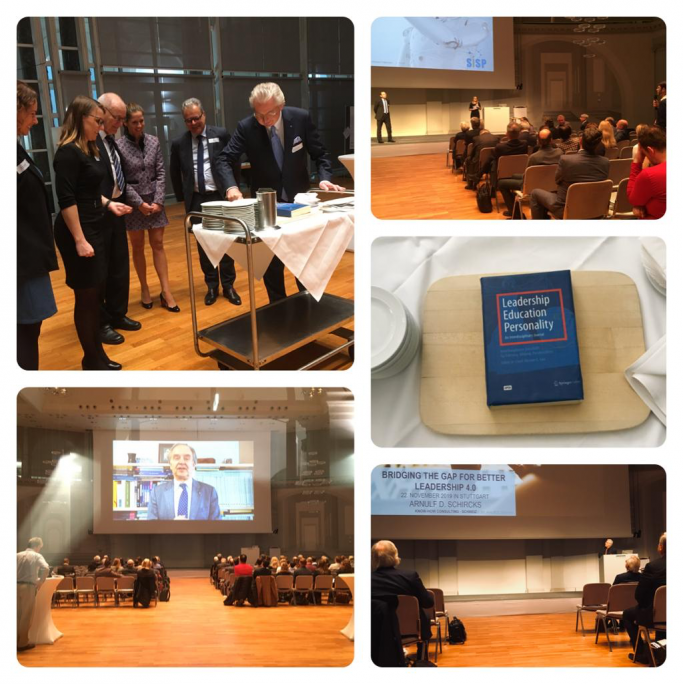 Eine der bahnbrechenden disruptiven Innovationen der vergangenen zehn Jahre ist die künstliche Intelligenz (KI), die bereits jetzt in vielen Bereichen der menschlichen Lebens- und Arbeitswelt eingesetzt wird. In Zukunft werden unzählige weitere Anwendungsfelder für KI-Technologien prognostiziert. Eine, in der öffentlichen Diskussion, weniger beachtete Thematik ist in diesem Rahmen die Verbindung von Ethik und Künstlicher Intelligenz. Die Tatsache, dass Menschen KI-Anwendungen programmieren hat zur Folge, dass diese der Moral und Ethik der Programmierenden folgen. Die hochrelevante Fragestellung, wie mit dieser Herausforderung umgegangen werden kann, bearbeitet Prof. Dr. Klaus Mainzer, Emeritus of Excellence der Technischen Universität München, seit mehreren Jahren.

Im Rahmen des internationalen Symposiums in Stuttgart hielt er einen Video-Vortrag, in welchem er die Relevanz einer konkreten Roadmap für die Zusammenarbeit von Mensch und Maschine darlegte.

In der digitalen Zukunft wird jeder Mensch mit dieser Art der Zusammenarbeit konfrontiert werden. Dies trifft auf Fachkräfte ebenso zu, wie auf Führungskräfte. Aus diesem Grund hielt Dr. Sylke Piéch, Senior Research Manager Educational Technology Lab des deutschen Forschungszentrums für Künstliche Intelligenz, im Rahmen des Symposiums, einen Workshop zur "Qualifizierung von Führungskräften im Kontext von KI" ab. Dr. Piéch beschrieb hier unter anderem, welche Führungskompetenzen im digitalen Zeitalter relevant sind. Dabei betonte die Workshop-Leiterin, wie wichtig es für die Führungskräfte ist, digitales Wissen zu erwerben und sich im Umgang mit den neuen Technologien stetig zu qualifizieren. Damit KI-Prozesse in Unternehmen integriert werden können, bedarf es grundsätzlicher institutioneller Veränderungen, z.B. im Mindset der Mitarbeiter. Diese Veränderungen zu realisieren kann durch eine innovationsorientierte Unternehmenskultur erleichtert werden. An dieser Stelle sind Führungskräfte in der Pflicht Entwicklungen voranzutreiben und Mitarbeiter auf dem Weg zur Veränderung mitzunehmen, um so Unternehmen zukunftsfähig zu gestalten. Eine Tatsache, die Prof. Dr. Faix in seiner Abschlussrede zur Veranstaltung hervorhob.

Das wissenschaftliche Symposium der SIBE mit der Steinbeis Stiftung und Eurac Research Bozen gab allen Teilnehmenden einen interessanten Einblick in die Rolle von Führung in der (digitalen) Zukunft. Disruptive Innovation, institutionelle Zusammenarbeit und Enablement von Mitarbeitern wurden hierbei in den Fokus gerückt. Führung in einer digitalen Welt, als breitgefächerter Themenkomplex, geht jedoch weit über diese Themen hinaus, sodass mit all den neuen Impulsen ebenso viele relevante Fragen aufgeworfen wurden, die in der Zukunft näher betrachtet und erforscht werden sollten.

Einige dieser Fragen versucht das Open-Access-Journal "Leadership, Education, Personality: An Interdisciplinary Journal", des Springer Verlags, zu beantworten. In diesem werden wissenschaftliche Beiträge zu unter anderem den Themen digitale Transformation, Führung und Arbeitsgestaltung, veröffentlicht. Das Journal wurde zu Beginn des Jahres 2019 in einer Kooperation des Springer-Verlags mit der School of International Business and Entrepreneurship (SIBE) der Steinbeis-Hochschule gegründet.

Die SIBE ist die Graduate School für Leadership & Management an der wissenschaftlichen Steinbeis-Hochschule. Ihre Lehr- und Forschungsschwerpunkte liegen im Bereich von Management & Business Leadership und damit auf den Themen Führung, Persönlichkeit und Innovation, sowie den Spannungsfeldern, die sich aus der Kombination dieser Themen ergeben.


INFORMATION ABOUT
UPCOMING EVENTS


Leadership, Education, Personality: An Interdisciplinary Journal


TOPIC: LEADERSHIP IN A DIGITAL WORLD
*The associated special edition of the journal "Leadership, Education, Personality: An Interdisciplinary Journal" is published at

Personalities from science and business discuss

current state of the art
Disruptive innovations are essential for the future viability of companies of all sizes. Incremental changes deliver value, but do not prepare companies for the digital future. For this reason, Prof. Dr. Werner G. Faix, Managing Director of the School of International Business and Entrepreneurship (SIBE) of Steinbeis University and Dean of the Faculty of Leadership & Management at Steinbeis University, used his opening speech at the scientific symposium "Leadership in a Digital World" to draw attention to the urgency of disruptive innovations in companies.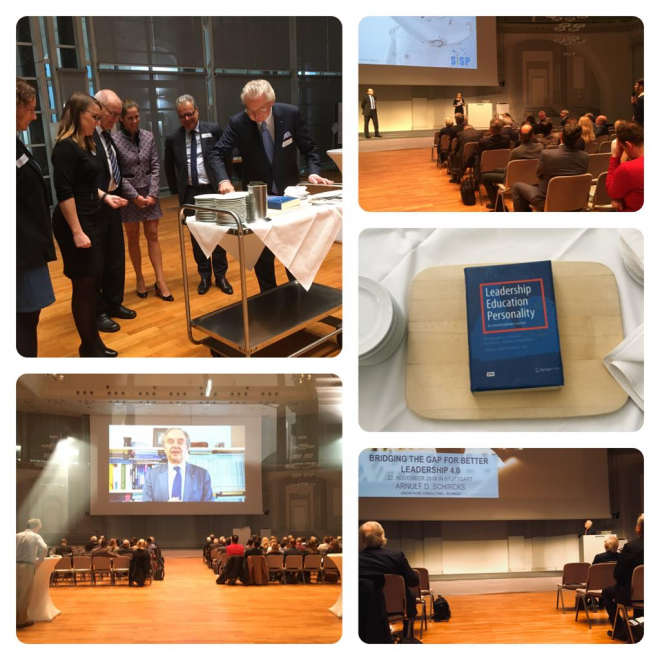 One of the groundbreaking disruptive innovations of the past ten years has been artificial intelligence (AI), which is already being used in many areas of human life and work. In the future, countless other fields of application for AI technologies are predicted. A less considered topic in the public discussion is the connection between ethics and artificial intelligence. The fact that people program AI applications means that they follow the morals and ethics of the programmers. Prof. Dr Klaus Mainzer, Emeritus of Excellence at the Technical University of Munich, has been working on the highly relevant question of how to deal with this challenge for several years. At the international symposium in Stuttgart, he gave a video lecture in which he presented the relevance of a concrete roadmap for the cooperation between man and machine.
In the digital future, everyone will be confronted with this kind of cooperation. This scenario applies to specialists as well as to managers. For this reason, Dr. Sylke Piéch, Senior Research Manager Educational Technology Lab of the German Research Center for Artificial Intelligence, held a workshop on "Qualification of Leaders in the Context of AI" as part of the symposium. Among other things, Dr. Piéch described which leadership competencies are relevant in the digital age. The workshop leader emphasized how important it is to acquire digital knowledge and to continuously qualify themselves in dealing with the new technologies. In order for AI processes to be integrated into companies, fundamental institutional changes are required, e.g. in the mindset of employees. Implementing these changes can be facilitated by an innovation-oriented corporate culture. At this point, managers have a duty to drive forward developments and take employees along on the path to change in order to make companies fit for the future. This will be the central fact that Prof. Dr. Faix emphasized in his closing speech at the event.

The SIBE Scientific Symposium with the Steinbeis Foundation and Eurac Research Bolzano gave all participants an exciting insight into the role of leadership in the (digital) future. Disruptive innovation, institutional cooperation and employee empowerment were the focus. However, leadership in a digital world, as a broad complex of topics, goes far beyond these topics, so that with all the new impulses just as many relevant questions were raised that should be examined and researched in the future.

The Open Access Journal "Leadership, Education, Personality: An Interdisciplinary Journal", published by Springer Verlag, tries to answer some of these questions. The journal publishes scientific articles on topics such as digital transformation, leadership and work design. The journal was founded at the beginning of 2019 as a cooperation between Springer Verlag and the School of International Business and Entrepreneurship (SIBE) at Steinbeis University.

SIBE is the Graduate School for Leadership & Management at the Steinbeis University of Applied Sciences. Its teaching and research focuses on Management & Business Leadership and thus on the topics of leadership, personality and innovation, as well as the areas of conflict that arise from the combination of these topics.