Diploma of Performance and Leadership
The leadership development program reveals the potential that you possess. By means of an open-ended innovation or research project, you demonstrate that you are actively shaping the future readiness of your company or research discipline.
With the Diploma of Performance & Leadership, you will learn the essentials of leadership in interdisciplinary study groups. And you can do it according to your schedule as the online program does not require any attendance and allows you to organize your working day in a variable way.
In this way, you benefit from digital flexibility and at the same time experience the possibilities of forward-looking digital teamwork: an intensive exchange with fellow students takes place via colloquia, group work, and feedback rounds.
System Accredited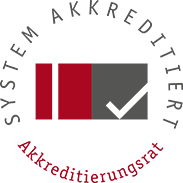 SIBE is system-accredited by the FIBAA in accordance with the requirements of the German Accreditation Council.
Format & Content
The objective of the program is to demonstrate performance as a prospective leader and to make a tangible contribution to the organization. You will apply efficient leadership tools within the framework of your own innovation project. Besides the necessary methodological contents, you will get to know important aspects of responsibility, which are crucial for your further career. The contents of the program are: Future Research, Digitization, Networks, Innovation, Sustainability, Ethics, Competencies, Performance etc. In addition, the program aims to develop your leadership personality.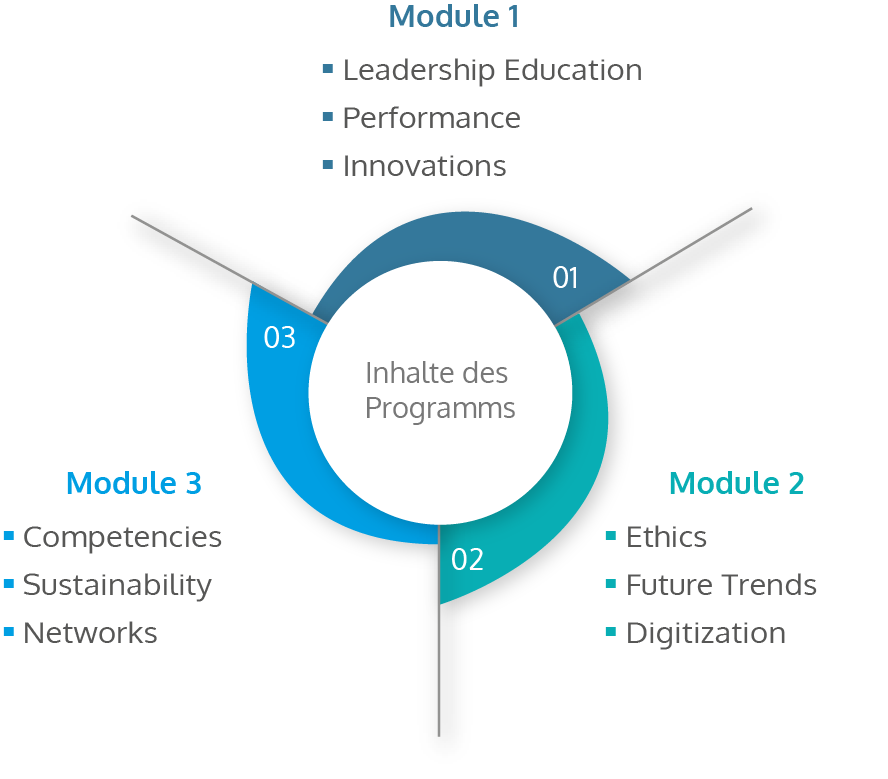 You will be optimally prepared for a management career in terms of content, method and personality. The new program design addresses the demands placed on you and imparts, for example, procedures for defining innovative goals, for decision-making, and for interdisciplinary and cooperative problem-solving. In addition, you will benefit from the 360°-feedback methodology and expand your competencies, e.g. in the area of executive communication. On a personal level, you will be able to expand your international network and also provide evidence of a representative final thesis. Throughout this process, you will receive intensive support: On the part of SIBE by the Academic Success Councelor and on the part of the partner organization by a personal Leadership Mentor.
Examinations
We are convinced that it is not only important to master things in theory, but also to experience and reflect on them in practice. Therefore, you will work on problems and tasks of your individual innovation projects in the form of the following academic examinations:
3 Project Study Papers
Project status reports
Presentations
Final thesis: scientific publication, invention disclosure or business plan
Admission & Application
Requirements
completed studies with min. 240 credit points accordingly to ECTS or equivalent
English language skills of a level of at least B2 according to the European Framework of Reference for Languages (depending on the study group)
Professional experience from internships and work, international experience, volunteer work, etc.
Successful completion of the SIBE online assessment centre
A partner that employs you as part of your studies and allows you to work on an innovation project. You are welcome to bring your own partner or We will be happy to support you in your search for a partner company.
Your application documents
Optional: Cover letter
Curriculum Vitae
Certificate of studies
Study record (alternatively current overview of grades) and
Work and internship certificates
Summarize them in a PDF file and send it to bewerbung@steinbeis-sibe.de. Please apply at an early stage.
Courses usually start several times a year and are independent of the state winter and summer semesters.
Selection process
For the Diploma of Performance and Leadership, a three-stage selection process is conducted – consisting of the formal review of application documents, the online assessment center (English test if applicable) including project description, and a KODE® assessment. After successful completion of the selection process, you will either start directly with your existing company in the program or be accepted into our talent pool.
In the talent pool, you can look together with us for a suitable project-giving company. In doing so, you can either identify a suitable partner yourself or access our advertised vacancies. Forwarding your application documents to cooperating partner companies is only possible after the coaching call.
Fees & Funding
The partner organization usually pays a large part of the program fees incurred and also pays you a salary at the scholarship level. We will be happy to discuss details with you personally.