Due to the profound changes currently taking place in the world, there is a need for leadership. Leadership enables a courageous journey into a seemingly unpredictable future and prevents people, organizations, or societies from becoming fearfully trapped.
What awaits us at the end of the path is connected with the notion of the "New". The "New" is often reduced to the concept of "invention". Formative for the expansion of this view was Joseph A. Schumpeter, who established the word "innovation".
Innovations are much more than technological progresses. It rather also represents new ways of thinking and acting that are necessary to achieve a successful change. Here, the crucial element is not always the person who is thinking of or inventing something new, but rather the person who realizes the new.
Regardless of the social context, we can speak of "creative personalities". With their active engagement, these individuals close the circle to the required leadership to initiate and drive the required change.
Recruitment
We find the optimal candidate for your open vacancies. Within this frame, you will gain access to our extensive talent pool of young graduates and experienced candidates.
Employee retention
Through our programs, you can systematically tie individual employees to your company and at the same time counteract the shortage of skilled workers in the long term.
employer branding
We support you in developing and building your employer brand. This is the only way to attract and retain the best and most motivated applicants for your company's projects.
Personality Development
Through our Experience-Based Curriculum (EBC), the participants of our programs develop their competencies purposefully and thus strengthen their own personality.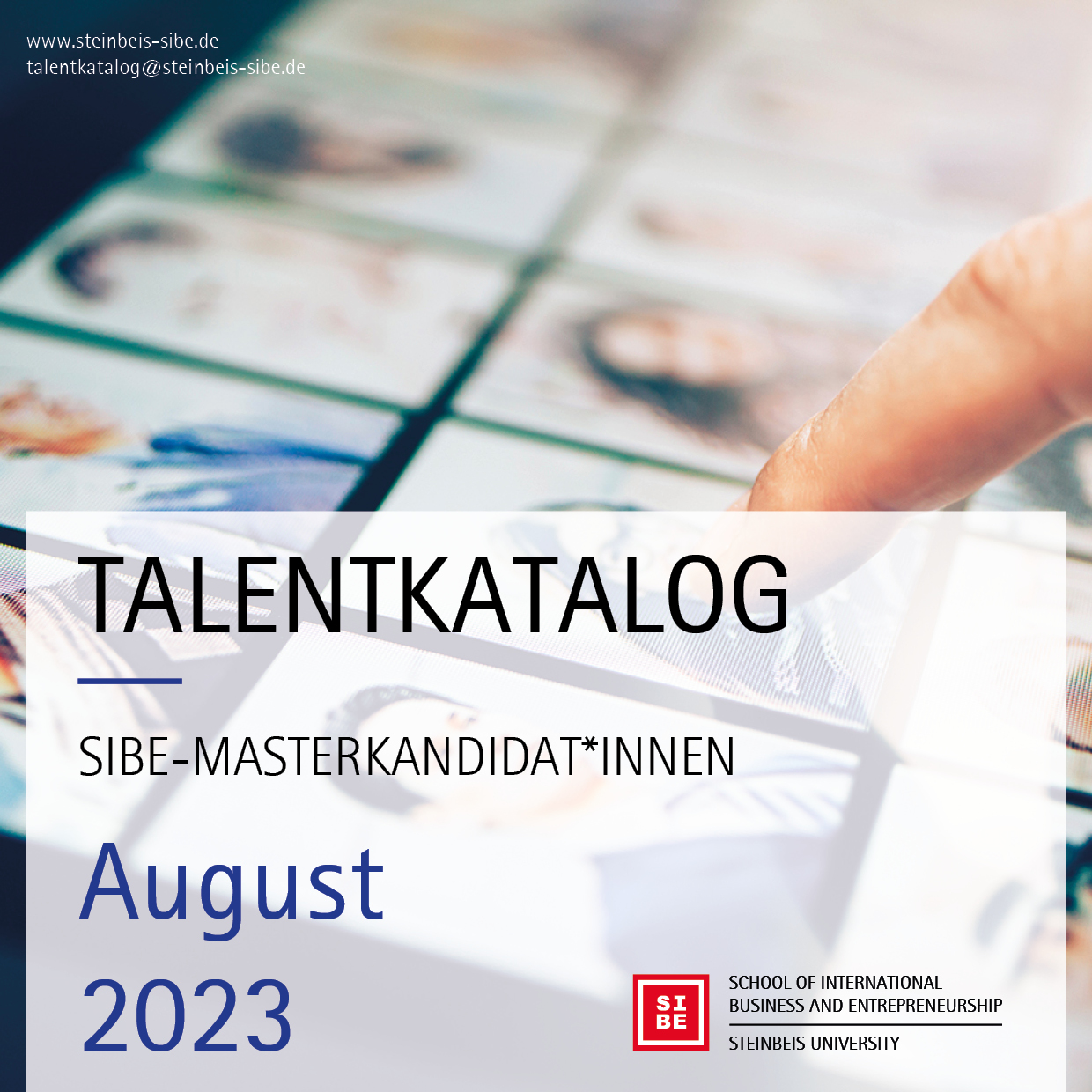 Find your perfect match in our talent catalogs
Are you looking for new talents who drive projects forward and take on responsibility in your company?
Every month, we offer you an overview of our academic newcomers in our talent catalog. These talents are looking for a company for the job-integrated SIBE master's degree. Candidates have already passed a multi-stage selection process (including English test, online assessment center, KODE competence assessment) and are actively looking for a partner company for the dual study concept. Scientifically accompanied, the students will master their entrepreneurial challenges and realize real-world projects.
Early retention of young talent to counter the war for talent
Committed, highly motivated young academics with a first degree, selected for their potential
Successful recruitment through the cooperation of your business and our in-house personnel consultancy
Employment via a work or trainee contract (limited to 2 years, also without head count)
Systematic & successful implementation of innovative projects for your company with the support of SIBE
The student projects solve your entrepreneurial challenges
After 2 years taking over the student is possible
Regarding employee retention, you can propose your own employees