International Rail Management
Our MBA with specialization in International Rail Management combines general management, personal competency development and the fundamentals of business administration with a specialization in rail management. As part of the program, students work on projects that focus on industry-specific challenges. The interdisciplinary content is provided by SIBE. The industry-specific seminars are provided by the Rail Academy of Deutsche Bahn. In this combination, the master's program offers a holistic approach for railroad companies worldwide.
Our MBA Partner

DB Rail Academy, the international training provider of DB Engineering & Consulting, a subsidiary of Deutsche Bahn, has the objective to meet the individual needs for high-quality training and education in the transport sector worldwide. In view of the rapidly increasing demand for international training, our customers rely on the experience gained from 185 years of successful rail business in Germany. Our customers benefit from our holistic training and competence management solutions in all areas of transportation, from the analysis of training needs to the operation of academies with a wide range of training and development programs for the experts of tomorrow.
Deutsche Bahn's central training organization offers 26,000 training courses to 270,000 participants per year, with a 96% recommendation rate. In addition, it has 19 full-motion simulators in 12 simulation centers.
Get on track with Deutsche Bahn's full-service provider, the DB Rail Academy.

Project
Within the framework of the program, you will develop solutions for key business challenges of rail management and thus ensure immediate benefits. At the same time, you will go through a competency development during the project implementation. By working out and reflecting on projects, you will learn to set goals and to realize them successfully even in new situations.
Through application in the project, we ensure that you not only acquire knowledge and qualifications (i.e. mastering things in theory), but that your competencies are built up in practice.
In addition, a structured project curriculum will give you the opportunity to work continuously and systematically on the scientific progress of the project and to reflect on it with fellow students, lecturers and your company. This way, you will achieve the greatest possible practical and theoretical expertise in an individually selected project area.
Format & Content
The focus of the study format is therefore on your own project implementation. You will be embedded in a close network of diverse sparring partners who will accompany you intensively on your way on a regular basis. Live seminars, transfer assignments and peer reviews alternate to ensure that your studies are as interactive as possible. During the entire course of your studies, you will be supported by permanent contact persons from SIBE of Steinbeis University and the DB Rail Academy.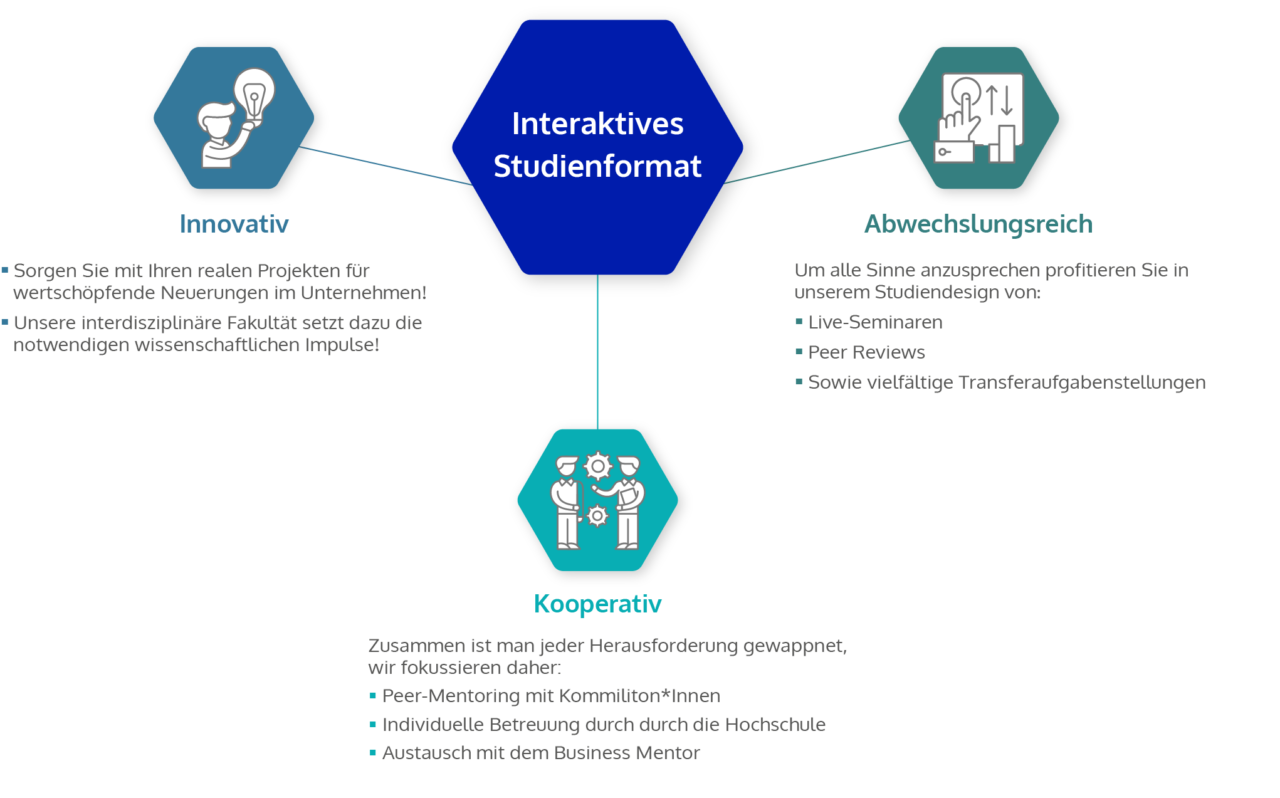 Furthermore, the program combines essential elements of general management, personal development of competencies and basics of business administration with a specialization in Rail Management leading to the degree of Master of Business Administration (MBA). In doing so, you will develop all contents together with German and international talents in seminars of the DBRA and the SIBE, which address the following contents:
| | |
| --- | --- |
| SIBE | DB Rail Academy |
| Economics | Management Systems in Rail Organization |
| Project Management & Organization in Rail Management | Safety Management in Railway Business |
| Innovation, Entrepreneurship & Strategy in Rail Management | Components of Rail Infrastructure & Maintenance |
| Marketing in a Rail Management Environment | Management in Railway Business |
| Accounting & Corporate Finance | Management Systems & Process Management |
| International Management | Rail System Engineering Fundamentals |
| Leadership & Competencies | Additional seminars (certificate of attendance): Fundamentals of Rail Electrical and Power Engineering, Principles of Signaling in System Rail or Rolling Stock Fundamentals |
Examinations
Since at work, skills and performance are more important than passing knowledge tests, we have designed the entire program to focus on your skills development. For this reason, you will not write any exams to test your knowledge during the MBA in International Rail Management, but you will work on problems and tasks in the form of presentations and project-related homework (so-called transfer or project study papers). Finally, your Master's thesis will assess your ability to transfer theory into practice and thus certify your innovative contribution to your company.
Admission & Application
Candidates should meet the following criteria:
Completed first degree at a German or foreign university with at least 210 credit points according to ECTS or an equivalent (with only 180 ECTS, a compensation work is possible)
2 years of professional experience after the first degree
English language skills of a level of at least B2 according to the European Framework of Reference for Languages