LL.M. in International Business Law
LL.M. Early Bird Special: Apply until January 15th, 2024 bindingly and save a total of
€ 2,000 in relation to the regular tuition fees!
In today's globalized world, law is no longer a predominantly national matter. All branches of law have lost their national exclusivity and are, to a high degree, influenced by international and regional legal instruments, supranational EU law, and often also the law of foreign countries. International trade is at the heart of globalization and the core matter of today's legal practice. The LL.M. program "International Business Law" offers its students the necessary knowledge and skills to excel in this international legal environment.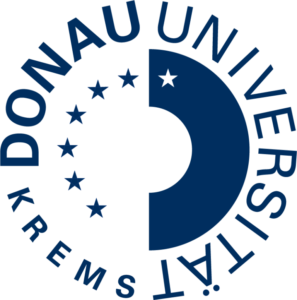 In this study program, we cooperate with the renowned Danube University Krems, Austria, one of the European pioneers in the field of continuing education. Find further information about the Danube University Krems here.
Our SIBE LL.M. program is a one-year program with 60 credit points (ECTS) in cooperation with the Danube University Krems, covering all relevant areas of international business law. It is taught 100% online and asynchronously in English. The content is taught by renowned professors and practitioners who will supervise and support you at the same time. Our students come from all over the world. The Master of Laws (LL.M.) degree is awarded by Danube University Krems. Furthermore, there is the possibility to receive an additional certificate of your personal specialization. The next information sessions will take place on December 7, 2023. Registration
Format & Content
The online LL.M. qualifies students through the diversity of the program, which is taught in English, and through the valuable cooperation between SIBE and DUK. The program consists of the following five modules and is based on the following three pillars: project / knowledge transfer / discussion forum. The specialization will be achieved through an individual Law Project.
MODULE 1: Basic Principles, European Law, Purchase-& Commercial Law
Duration: 2 months
Examination: 1 Paper, 1 Test
MODULE 2: Corporate Law incl. M&A, Compliance, Insolvency Law
Duration: 2 months
Examination: 1 Paper, 1 Test
MODULE 3: Economic Law and Special Areas (including Labor Law, Tax Law, Competition Law, Capital Market Law, etc.)
Duration: 2 months
Examination: 1 Paper, 1 Test
MODULE 4: International Dispute Resolution, Arbitration, Mediation, and Soft Skills
Duration: 2 months
Examination: 1 Paper, 1 Test
MODULE 5: Master's thesis
Detailed information on the modules can be found on pages 6 & 7 of the brochure in the download area.
Project
Under the guidance of academically experienced practitioners and in close collaboration with your peers, you elaborate your project topic self-organized: Applying the methods and tools of research, you plan and analyze the various facets of your topic. Results from your work are documented in your Project Study Plan in the LL.M. program, you elaborate systematically and continuously a law project of your choice. You choose the field in which you want to become a specialist from one of the following four main topics:
International Contract Law (EU, WTO)
International Commercial-, Competition- and Corporate Law (incl. Transnational M&A)
Specialized areas (Insolvency-, Labor-, Capital Markets-, Tax Law, etc.)
International Civil Procedure incl. Arbitration and Mediation, International Jurisdiction
Under the guidance of academically experienced practitioners and in close collaboration with your colleagues, you will develop your project topic in a self-organized manner: using the methods and tools of research, you will plan and analyze the various facets of your topic. You will document the results of your work in the written papers that ultimately form the basis for your Master's thesis.
Examinations
4 Papers
4 Tests
1 Master's thesis (MT) and defense
Credits & Duration
60 credit points (ECTS)
12 months (8 months study time and 4 months Master's thesis [incl. final examination])
Admission & Application
Candidates should meet the following criteria
University degree in law (at least Bachelor) or another successfully completed Austrian or equivalent foreign university degree (at least Bachelor) with substantial legal training
Very good English skills
Successful completion of the Danube University Krems admission procedure
If you are interested and have any questions, please feel free to send an inquiry to llm@steinbeis-sibe.de.
To apply, please follow the link below and upload all documents. Ongoing admissions. You can submit your application at any time.
Fees & Funding
The total tuition fees for the LL.M. program are 11,900,-€ (payable in two installments of 5,950,-€ each).
Regularly, all fees are fully deductible of tax – the tax consultant can consult in detail.
The following services are included in the tuition fees:
Enrollment during the study time
All courses and examinations as required by the program's examination regulations.
Reviewing of and feedback on all graded assignments and performance evaluations in a timely manner.
Full access to the learning platforms as well as to all mandatory teaching materials (textbooks, presentations, cases, videos, etc.)
Free access to the online libraries of the SIBE and DUK
Continuous and effective coaching and guidance from our experienced professors during all modules and the elaboration of the individual practice-related Law Project
Individual support from our experienced experts
Scholarship Opportunities
In addition, various public organizations offer additional support. We strongly recommend checking the offers.
DAAD (German Academic Exchange Service)
Deutscher Bildungsserver (German Education Server)